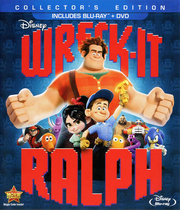 Wreck-It Ralph is a CGI film by Walt Disney Pictures released in theatres on November 2, 2012. It is about a video game villain who wants to be a protagonist. Clyde, Pac-Man, Blinky, Inky, and Pinky are shown to have cameos in the film. Clyde was shown as the leader of the bad guy meeting. Blinky, Pinky, and Inky appear several times in the Game Central Station and Pac-Man appears at Fix-It Felix Jr.'s 30th Anniversary party.
The film was released on Blu-Ray (2D and 3D) and DVD on March 5, 2013, the film debuted at #1 in Blu-Ray and DVD sales in the US. It is often described as a video game version of the 1988 movie Who Framed Roger Rabbit.
Gallery
External Links
Ad blocker interference detected!
Wikia is a free-to-use site that makes money from advertising. We have a modified experience for viewers using ad blockers

Wikia is not accessible if you've made further modifications. Remove the custom ad blocker rule(s) and the page will load as expected.