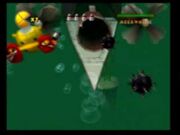 Whale on a Sub
is the fifth boss level in
Pac-Man World 2
. The 4 ghosts build a gigantic whale-like submarine, known as the Whale on a Sub. The only way to defeat them is if you fire torpedos at its propellers. the Mega-Whale will launch Mines and shark subs from its rear end. if the player gets too high, the boss will fire its cannon. at its last hit, the mines will be larger. it is also possible to hit the propeller supports.
Ad blocker interference detected!
Wikia is a free-to-use site that makes money from advertising. We have a modified experience for viewers using ad blockers

Wikia is not accessible if you've made further modifications. Remove the custom ad blocker rule(s) and the page will load as expected.