Hi, welcome to Pac-Man Wiki! Thanks for your edit to the File:Avalanche Alley Title Screen.png page.
If you need help, and there are no local admins here, you may want to visit the forums on the Community Central Wiki. Looking for live help? Then join us for an upcoming webinar to chat with staff and other Wikia editors. You can also check our Staff blog to keep up-to-date with the latest news and events around Wikia.
Happy editing, Sarah Manley
(help forum | blog)
Hmmm, never thought of that, I will ask Wikia about that. Pacmansonic138 23:02, April 23, 2012 (UTC)
Deleting the pages that are irrelevent to this Wiki. Pacmansonic138 23:38, April 24, 2012 (UTC)
I am currently thinking of a Background, however due to complications with the "Yellow" color the layout will remain Blue. Pacmansonic138 01:52, April 25, 2012 (UTC)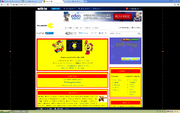 I have changed the color scheme, and I made an example of what our Background would look like.
Pacmansonic138
00:10, April 26, 2012 (UTC)