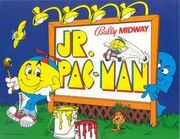 I like PacMan and Namco games. Not much else to say.
I've played all the Pac-Man arcade games, such as:
Pac-Man
Super Pac-Man
Mrs. Pac-Man
Pac-Man Jr.
The list goes on and on....
I haven't played many of the 3D games, but I have played just about every one of the 2D Games.
PAC MAN BETTER BE IN THE NEXT SUPER SMASH BROS. GAME!!!!! I'LL SUE NINTENDO!!!!
Favorite Ghost: Clyde
Favorite Character: Pac-Man Jr. (Even though he has practically no character traits)
And one more thing:
WACA WACA OM NOM NOM WACA WACA!!!!!!!!!!!