The Adventure Begins Part I is the first episode of Pac-Man and the Ghostly Adventures. It premiered on June 15th, 2013.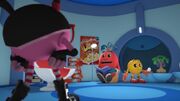 Plot
Thanks to the school bully, Pac-Man accidentally opens the portal to the Netherworld, unleashing an army of ghosts, led by the fiery Lord Betrayus! Lucky for Pac-World, the power-berries from the ancient Tree Of Life gives young Pac the ability to eat the ghosts…and burp out their eyeballs!
Characters
Pac/Pac-Man
Betrayus
Teacher
The ghosts
The monsters
Next Episode
Ad blocker interference detected!
Wikia is a free-to-use site that makes money from advertising. We have a modified experience for viewers using ad blockers

Wikia is not accessible if you've made further modifications. Remove the custom ad blocker rule(s) and the page will load as expected.