Seems Like Old Times is the twelfth episode of Pac-Man and the Ghostly Adventures. It aired on July 2nd, 2013.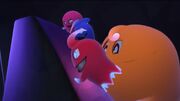 Plot
Sir Comference asks Pac-Man, Spiral, and Cylindria to help him get two drops of Slimetanium(Cyclops Eye Goo) for an invention he's been working on. But Sir Comference messes up the mission and they only get one drop of Slimetanium. Spiral and Cylindria get mad at Sir Comference, so he go the Netherworld alone and he gets the last drop of Slimetanium. But he gets caught by other ghosts and is taken to Betrayus.
Characters
Sir Comference
Pr Spheros
Ghost Gang
Trivia
The episode is named after the 1980 film by the same name.
This episode shows one of the few times when Butt-ler and Dr. Buttocks get along and work together.
Previous Episode
Next Episode
Ad blocker interference detected!
Wikia is a free-to-use site that makes money from advertising. We have a modified experience for viewers using ad blockers

Wikia is not accessible if you've made further modifications. Remove the custom ad blocker rule(s) and the page will load as expected.