Planet Pac Versus the Ghosteroid is the eighteenth episode of Pac-Man and the Ghostly Adventures. It aired on September 14, 2013.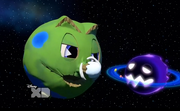 Plot
After Dr. Buttocks sends a giant Ghosteroid to destroy Pac World, Pac-Man has to grow to planet sized proportions by eating an planet berry so he can be big enough to eat the Ghosteroid.
Characters
Trivia
The Ghost Gang openly cheers for Pac-Man in this episode due to the fact that Betrayus is rooting for him, albeit it reluctantly/
Previous Episode
Indiana Pac and the Temple Of Slime
Next Episode
Ad blocker interference detected!
Wikia is a free-to-use site that makes money from advertising. We have a modified experience for viewers using ad blockers

Wikia is not accessible if you've made further modifications. Remove the custom ad blocker rule(s) and the page will load as expected.