Patra
Talk

0
436pages on
this wiki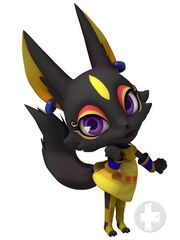 Princess Patra
Profile
Japanese Name
パトラ
Species
Fox
Gender
Female
Homeland
Pac-Land
Affiliation
Pac-Man
First Appearance
Pac-Man Party (2010)
Patra is a beautiful female black fox with purple eyes. She is the princess of the temple in mirage oasis, who makes her debut in Pac-Man Party. She resembles the Egyptian deity Anubis.
Her in-game profile reads "Princess Patra wants to become a high priest like her father."
Pac-Man Party

In the story mode of Pac-Man Party, Patra meets Pac-Man while he was looking for the Ghost gang in Mirage Oasis. Patra then introduces herself to him and tells him that she is a princess and that she lives in the great temple. She teams up with Pacman after the Ghost Gang insults her. After the duel, Pinky and Patra apologize to each other and become friends.Pinky is from the ghost gang so the others became Patra,s friend also.
Edited By Mikey Kesow Cincinnati,Ohio
Patra is most likely named after Cleopatra, the Egyptian Empress.
In the Rewards, the end of her tail is white but is all black in every other mode.
She is better at minigames that involve jumping.