Pac-Shark (or simply Sharks) are aquatic enemies that first appeared in Pac-Man World 2. They mainly attack by biting in all of their appearances.
Appearance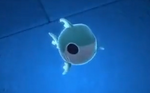 They are basically round-bodied sharks with large sharp teeth and beady eyes.
As Ghosts, Pac-Sharks look pretty much the same except they emit a ghostly glow, have glowing eyes and their fins looks somewhat shredded and pointy.
As infants, they are smaller in size and have larger eyes, but still have round bodies.



History
Pac-Man World 2
Pac-Sharks only appear in the levels "Scuba Duba" and "Shark Attack". One will try to eat Pac-Man but can be killed by spinning into it.
In-Game Description
"The Shark is a huge predator of the deep ocean. Feared by all creatures in the water, the Shark feeds upon the fear of its prey to attack with stealth and vigor."
Pac-Man and the Ghostly Adventures
In Pac-Man and the Ghostly Adventures, Pac-Sharks appeared in the episode Paclantis as Ghost Pac-Sharks. Throughout the episode they tried to eat Pac-Man and his friends, but they were luckily evaded. Near the end of the episode, one Ghost Pac-Shark ate the last Youth Berry, which turned it back into a living Pac-Shark and made it younger.
Ad blocker interference detected!
Wikia is a free-to-use site that makes money from advertising. We have a modified experience for viewers using ad blockers

Wikia is not accessible if you've made further modifications. Remove the custom ad blocker rule(s) and the page will load as expected.