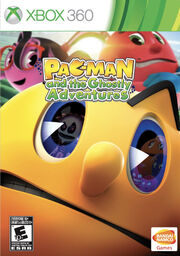 Pac-Man and the Ghostly Adventures is a platformer video game based on the television series of the same name. The game was released on the Xbox 360, PlayStation 3, Nintendo 3DS, PC, and Wii U on October 29, 2013, November 5, 2013 for 3DS. The game features gameplay similar to the Pac-Man World games. The game includes a free poster that glows in the dark.
Worlds
Main Worlds
Pacopolis Vision (2013)
Ruins (2013)
Netherworld (2013)
Ice Realm (2014)
Clouds From Pacopolis (2014)
Paclantis (2014)
Space (2014)
Prehistoric (2015)
Utopia (2015)
Block City (2016)
Lights, Cameras, Paction (2016)
Monster Trucks (2017)
Baby Business (2017)
Back In The 80s (Upcoming Next Year)
Time Twisters
National Circle (2013)
Censored Semester 188 (2015)
Trudermark (2016)
95 Shade (2017)
Characters
2013
Pac-Man: Eats through every ghost that is almost or already connected.
Kyle: Swings his light saber that smashes blocks and ghosts around it.
Anthony: Uses his force hands to push objects nearby.
Emily: Shoots red lasers three times on target.
Louis: Locks on target, which he can reach far or high areas.
Geric: Splits into three separate clones of himself.
Sheliesh: Explodes and destroys every thing in a short area.
Jayda: Uses beams to pull things then drag them anywhere else.
Danny: Drops an egg bomb downward then jump pops.
Master: Shoots three red lasers at once.
2017
Josiah: Pulls everything in a short area then pushes them into separate directions.
Ladaricus: Drops an egg bomb high up then falls down quickly.
Issac: Uses beams to push things then drag them anywhere else.
Gallery
Videos
Ad blocker interference detected!
Wikia is a free-to-use site that makes money from advertising. We have a modified experience for viewers using ad blockers

Wikia is not accessible if you've made further modifications. Remove the custom ad blocker rule(s) and the page will load as expected.