Pac-Man and the Ghostly Adventures (Season 2)
Talk

16
Share
Ad blocker interference detected!
Wikia is a free-to-use site that makes money from advertising. We have a modified experience for viewers using ad blockers

Wikia is not accessible if you've made further modifications. Remove the custom ad blocker rule(s) and the page will load as expected.
Pac-Man and the Ghostly Adventures was renewed for a second season to have 52 episodes. The season is expected air sometime later this year. The Season 2 production order was extended from 39 episodes to 52 episodes on January 31, 2014.[1] Season 2 began on June 9, 2014 on Disney XD airing at 12:00PM ET/PT.[2]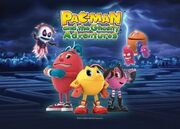 Episode List (2014-2016)
Ride The Wild Pac-Topus (June 9, 2014)
Meanie Genie (June 10, 2014)
Cave PAC-MAN (June 11, 2014)
Cosmic Contest (June 12, 2014)
That Smarts! (June 16, 2014)
Pac-Mania (June 17, 2014)
Rip Van Packle (June 23, 2014)
Spooka-Bazooka! (June 24, 2014)
The Pac Be With You (June 30, 2014)
The Shadow of the Were-Pac (October 8, 2014)
A Hard Dazed Knight (October 15, 2014)
Captain Banshee and his Interstellar Buccaneers (October 16, 2014)
Happy Holidays and a Merry Berry Day (December 2, 2014)
Peace Without Slime (May 18, 2015)
Ghost Behind the Throne (May 19, 2015)
Nerd is the Word (May 20, 2015)
Bride of Grinder (May 21, 2015)
Legends of Creepy Hollow (May 22, 2015)
Easter Egg Island (May 26, 2015)
The Wizard of Odd (May 27, 2015)
Indiana Pac and the Dentures of Doom (May 28, 2015)
Honey, I Digitized the Pac-Man (May 29, 2015)
Pac's Scary Halloween Part I (October 4, 2016 on Netflix)
Pac's Scary Halloween, Part II (October 4, 2016 on Netflix)
Santa Pac (September 3, 2015 on Netflix)
New Girl in Town (May 29, 2015)
References