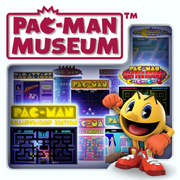 Pac-Man Museum is a compilation of Pac-Man games available on Xbox Live Arcade, PlayStation Network and Steam, and published by Bandai Namco Games. It was released on February 26, 2014 but it was also released on Steam and the North American PlayStation Store a day earlier (February 25, 2014). It will be released in Japan for PS3 and Xbox 360 on June 25, 2014. A version was in development for the Nintendo eShop, to be released on Nintendo 3DS and Wii U, but was cancelled due to "delayed development".
Games Included
Stamps
As you play one of the Pac-Man games, you'll earn an achievement stamp for the stampbook as you complete goals in the specific game. When you earn a stamp, you'll unlock an item.
Items
You can access the Pac Room or the Item List to see the items you have.
Pals
References
Ad blocker interference detected!
Wikia is a free-to-use site that makes money from advertising. We have a modified experience for viewers using ad blockers

Wikia is not accessible if you've made further modifications. Remove the custom ad blocker rule(s) and the page will load as expected.