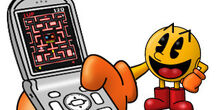 In the mid-2000s, upon the rise of mobile cell phones, Namco began work on several Pac-Man mobile games. The original became one of the most popular mobile games at the time according to an interview [1], and in addition to ports of other Pac-Man and Namco titles, many Pac-Man spinoffs were released exclusively for mobile devices. Many have fallen into obscurity (with a few becoming cult classics), and most are lost and currently unplayable in any form.
Ports
These games are ports of already existing Pac-Man games.
Original Games (Flip Phones)
These games were released for 2000s flip phones. For most of them, their exact origins are unknown, but they are all verified to have been officially released by Namco.
Space Invaders vs Pac-Man - Compilation including both Space Invaders and Pac-Man; however, the characters have switched places between games. Japan-only release.
Pac-Man Pinball
Pac-Man Pinball 2 - Also called Super Pac-Man Pinball.
Pac-Man Puzzle
Pac-Man Bowling
PAC-Match! - Presumed to be a Bejeweled style game, judging by its sequel (see below).
Pac-Man Casino - Slots Pack
Pac-Man Casino - Card Game Pack
Pac-Man Arcade Golf
Pac-Man Party - Designed to capitalize on the release of the Wii game, but the mobile version appears to be a different game.
Pac-Man Crisis - Japan-only release.
Battle Pac-Man - Japan-only release.
(There are likely several other releases not documented here. As of now, these are the only known titles.)
Original Games (iOS/Android)
These more recent titles are more in-depth than the flip phone titles, and are, for the most part, still accessible in some form. A few games, like Pac-Man 256, are considered to be some of the best in the Pac-Man series. They are also often handled by other companies, unlike the previous titles, which were all developed exclusively by Namco.
Letter Labyrinth: Pac-Man Edition
PAC-Match Party - Sequel to PAC-Match! released for Pac-Man's 30th anniversary.
=10 - Believed to be a clone of Add 'Em Up. Originally thought to have been a bootleg title, but appeared in a list on the official Pac-Man website [2].
Pac-Man Reborn - Appears to be a Tomadachi-like virtual pet game. Japan-only release.
Pac-Chain - A unique puzzle game. Some lists refer to a sequel called Pac-Chain Compact, but nothing else about it is known.
Pac 'N Jump - Clone of Doodle Jump. The levels are based off of other Namco arcade games.
Pac-Chomp! - Another Bejeweled clone.
PAC-MAN GAMES - Ports of the Facebook versions of Namco games to iOS.
Pac-Man Kart Rally - Loosely based on Pac-Man World Rally.
Pac-Man + Tournaments - The original Pac-Man with various new levels and features. Later renamed to just Pac-Man.
Pac-Man Dash! - A 2D endless runner. Requires Pac-Man and the Ghostly Adventures-branded toys to play properly (which are now out-of-print).
Pac-Man Monsters - An RPG in the vein of Puzzles and Dragons.
Pac-Man Friends
Pac-Man 256 - Similar in gameplay to Pac-Man Arrangement. Later rereleased on PC, Playstation 4 and Xbox One.
Pac-Man Bounce - Sequel to Pac-Man Friends.
Pac-Man Puzzle Tour - Generic puzzle game. Originally the game was considered rushed and featured poor graphics; this was changed in an update, which featured remarkably better graphics and gameplay.
Pac-Man Pop! - Puzzle Bobble clone. Notably features Chomp-Chomp, marking his first appearance in the series since the early 2000s.
Pac 'N Twit - Involves Twitter in some form. Japan-only release.
Gallery
Ad blocker interference detected!
Wikia is a free-to-use site that makes money from advertising. We have a modified experience for viewers using ad blockers

Wikia is not accessible if you've made further modifications. Remove the custom ad blocker rule(s) and the page will load as expected.