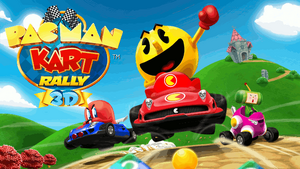 Pac-Man Kart Rally
is a racing game made for mobile phones. It features
Pac-Man
and other Namco stars. It is mainly a sequel to
Pac-Man World Rally
(though not official).
Gameplay
Gameplay in Pac-Man Kart Rally is similar to the average kart racer. 
Characters
Characters in this game are more widespread across NAMCO games. The character design seems to be somewhere between the Pac-Man World design and the Pac-Man Party design. Characters are (in order of character selection screen):
Mr. Driller
Blinky
Pinky
Inky
Clyde
Pac-Man
Taizo Hori
The Prince
Ichigo
Galaga Ship
​How to Unlock
Listed below is how to unlock the characters, in ordor.
Pac-Man - Default
Blinky - Default
The Prince - Default
Taizo Hori - Default
Ad blocker interference detected!
Wikia is a free-to-use site that makes money from advertising. We have a modified experience for viewers using ad blockers

Wikia is not accessible if you've made further modifications. Remove the custom ad blocker rule(s) and the page will load as expected.