The Pac-Man series is a series of video games that was created and owned by Namco. It mainly stars their mascot, Pac-Man on his journeys. The series usually stars Pac-Man in games where the objective is to eat all the dots in each maze and avoid the Ghost Gang or other Ghosts. Among other characters is Pac-Man's family, Ms Pac-Man , Pac-Man Junior and others who also run in mazes. Besides maze video games, Pac-Man has been on his own adventures in 2-D and 3-D platformer games.
Recurring Characters
Other
List of Pac-Man media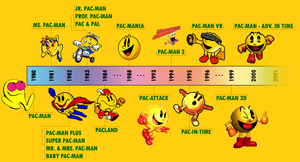 Arcade games
Home console and portable games
Animated Television Series
Ad blocker interference detected!
Wikia is a free-to-use site that makes money from advertising. We have a modified experience for viewers using ad blockers

Wikia is not accessible if you've made further modifications. Remove the custom ad blocker rule(s) and the page will load as expected.