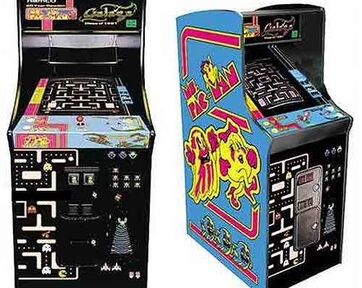 Pac-Man's 20th Anniversary
is the twentieth year of Pac-Man's existence. The release of
Pac-Man World
was to celebrate the anniversary.
Released in 2000, this was made to celebrate the 20th anniversary. Although, the main games included were Ms. Pac-Man and Galaga which were the most popular Namco games of 1981 even though this being for the original Pac-Man's anniversary. The original Pac-Man was still included as a secret game playable by putting in a code using the joystick. You also have the option to play faster versions of all the games as well as the regular versions. This is one of the most commonly found machines of all in North America.
Codes
Speedy Mode: Left, Right, Left, Right, Up, Up, Up, Fire
Pac-Man: Up, Up, Up, Down, Down, Down, Left, Right, Left, Right, Left
Ad blocker interference detected!
Wikia is a free-to-use site that makes money from advertising. We have a modified experience for viewers using ad blockers

Wikia is not accessible if you've made further modifications. Remove the custom ad blocker rule(s) and the page will load as expected.