Pac-Dots
Talk

0
436pages on
this wiki
Pac Dots are easily the most common item in the Pac-Man games. In the arcade version, Pac Dots are just small white squares, scattered about the stage. In the 3-D games, they are round in shape, and are now yellow. Pac-man is able to eat many, many of these at a time. They could also be known as mints.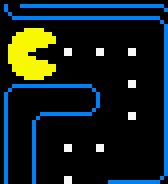 In Pac-Man World, Pac Dots are used as a currency of some sort. At the end of each stage, the Pac Dots that Pac-man collected will be thrown into a machine which counts them up and gives the player points. Also, only in this game, Pacman can shoot Pac Dots out of his hand, and Super Pac Dots after charging.
These are bigger, glowing Pac Dots that turns ghosts blue, and lets Pac-man eat them.
Fly dots are found in the 3-D games. They are a chain of Pac Dots with the first in the chain having a red arrow pointing outwards. If Pac-man swallows this first dot, he will fly through the chain while eating each dot on the way. These Fly Dots usually lead Pac-man from one place to another, which was unreachable before.