No Pets Allowed... Especially Monsters Part I is the third episode of Pac-Man and the Ghostly Adventures. It aired on June 19th, 2013.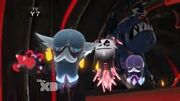 Plot
When Pac and friends keep defeating all his ghosts, Betrayus, with the help of the demented Dr. Buttocks, decides to clone an army of Netherworld monsters. Lucky for Pac, one little monster isn't really a monster at heart.
Character
Pac/Pac-Man
Cyllindria
Spiral
Betrayus
Dr. Buttocks
Butt-ler
Ghost Gang
Sir Comference
President Spheros
Absent
Skeebo
Previous Episode
Next Episode
Ad blocker interference detected!
Wikia is a free-to-use site that makes money from advertising. We have a modified experience for viewers using ad blockers

Wikia is not accessible if you've made further modifications. Remove the custom ad blocker rule(s) and the page will load as expected.