Namco
is a video game company based in
Japan
. It also created the whole Pac-Man series.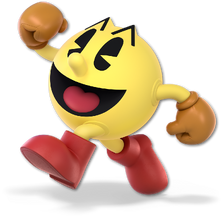 History
Namco was founded in 1955 by a man named Masaya Nakamura under the name Nakamura Manufacturing ltd. Their early projects included a series of mechanical rocking horses that could be seen outside several department stores in Tokyo.
Nakurma Manufacturing was changed to Namco in 1971 and acquired the Japanese division of Atari in 1974. This allowed Namco to create a sucessful range of arcade games. In 1980, Namco developed the game Pac-Man which became their best seller.
Toru Iwatani and the creation of Pac-Man
Main article: Toru Iwatani
Toru Iwatani is the well-known creator of the Pac-Man games. Toru Iwatani is also known for making the Gee Bee series also financed by Namco. Toru Iwatani first recieved the idea of Pac-Man when he ordered a pizza in Tokyo, Japan. Once the first quarter of the pizza was cut out, it resembled the Pac-Man sprite from the original games. The Pac-Man sprite is a reference to the 1980 release originally created by Toru Iwatani. Iwatani was the first to hear of the Midway-created game called Ms. Pac-Man. Once Pac-Man reached popularity, the game appeared all over, even in the United Kingdom. Pac-Man later released other games known as Super Pac-Man and Pac & Pal. Iwatani created the later games up until 1986 when Pac-Mania was released. The game was the first real 3D Pac-Man game and made the series more popular then it was. Iwatani began to rely more on Midway, Sega, and Atari to make the Pac-Man games that he eventually gave up on the idea. However, he returned to the Namco community in 2002 and continues to work for Pac-Man.
Other games by Namco
Dig Dug
Dig Dug II
Mappy
Pole Position
Ms. Pacman
Pole Position (licensed to Atari inc.)
Pole Position II (licensed to Atari inc.)
Jr. Pacman
Xevious
Bosconian
Rally X
New Rally X
Super Pacman
Pac & Pal
Galaga
Galaxian
Gaplus
Galaga '88
Mr. Driller
Tekken
Ace Combat
Katamari Damacy
Taiko no Tatsujin (Taiko Drum Master)
Time Crisis
Super Smash Bros. for Nintendo 3DS and Super Smash Bros. for Wii U