Ms. Pac-Man (game)
Talk

0
435pages on
this wiki
Ms. Pac-Man

Developer:

Midway Bally/General Computer Corporation

Publisher

Midway Bally/Namco

Series:

Pac-Man series

Genres:

Maze

Release Date(s):

1982

Arcade System:

Namco Pac-Man

Number of Players:

2 Players

Input Methods:

4 Way Joystick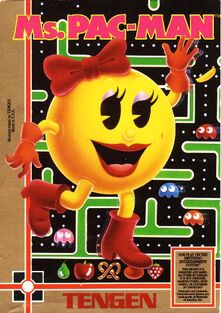 Ms. Pac-Man is an arcade game that is the sequel to the original Pac-Man arcade game. Originally, Ms. Pac-Man started as a hack called Crazy Otto by General Computer Corporation. However, since Bally-Midway became impatient in waiting for Namco to release Super Pac-Man, Bally-Midway then got the rights to Crazy Otto, changed the sprites to make it look like a Pac-Man game, and named it Ms. Pac-Man. But since the game was created without Namco's permisson, a lawsuit was filed against GCC and Midway. After the lawsuit, Namco got the rights to Ms. Pac-Man and released it in Japan.
Gameplay Info
Edit
The purpose of the game is to eat all the Pac-dots & avoid the attacks of the four ghost. The gameplay is very similar to Pac-Man all though there are some differences
The games has four different mazes that appear in color
The sound effects and music
The Orange ghost is called Sue then Clyde
Midway Bally become very impatient in waiting for Namco to release Super Pac-Man & so what they did is they bought the rights to Crazy Otto, they changed the sprites to look like a Pac-Man game and change the title to Ms.Pac-Man and released in to arcades. A game encyclopedia called Killer List of Videogames noted that Ms.Pac-Man was develop & publish without Namco's permission causing Midway Bally and General Computer Corporation to give the rights of Ms.Pac-Man to Namco, this caused the termination of licensing agreement between Namco & Midway Bally.
The game was originally a hack made by GCC (General Computer Corporation) video game company.
This is the first Pac-Man game not to be developed by Namco.