Madame Ghoulasha is a nether-witch who had a crush on Betrayus. She put a bad luck curse on Pac-Man so he couldn't interfere with Betrayus' invasions. In exchange, he had to marry her. However, he turned her down. This angered the witch and caused her to take the spell off Pac-Man. She then became smitten with Dr. Buttocks.
She only appears in
Jinxed
and was voiced by Kathleen Barr.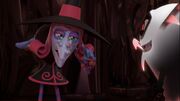 Ad blocker interference detected!
Wikia is a free-to-use site that makes money from advertising. We have a modified experience for viewers using ad blockers

Wikia is not accessible if you've made further modifications. Remove the custom ad blocker rule(s) and the page will load as expected.