MAD
Talk

0
436pages on
this wiki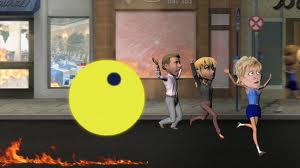 MAD
is a 2010 TV show on Cartoon Network. It is produced by Warner Bros. Animation.
The segment Super 80's has a scene where Pac-Man is shown chasing people across town.
In Diary Of a Wimpy Kid Icasis Pac-Man is seen getting chased by the ghosts. Later Ms. Pac-Man appears as a school teacher.
In ParaMorgan The ghosts appear in this sketch as few of the ghosts who appear.