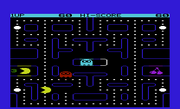 Jelly Monsters
for the Commodore VIC-20 is a faithful port of Namco's Pac-Man by HAL Laboratory who had the home computer rights to Namco's games in Japan at the time, but when the games were release in North America, the names were changed to avoid legal issues with Atari, Inc. who had the home computer rights in North America to Jelly Monsters for the VIC-20 which was published by Commodore International, Atari ended up suing HAL and Commodore anyway and won the lawsuit, Atari pulled off HAL's VIC-20 port and released their own version, after the lawsuit HAL sold the Japanese home computer rights to Dempa who ended up porting the game to many home computers in Japan, this excluded the MSX version of the game of which Namco ported themselves under their Namcot branding.
Ad blocker interference detected!
Wikia is a free-to-use site that makes money from advertising. We have a modified experience for viewers using ad blockers

Wikia is not accessible if you've made further modifications. Remove the custom ad blocker rule(s) and the page will load as expected.