Ghost Island in
Pac-Man World 2
.Haunted Boardwalk is the first and only level to have Pac-Man use In-Line skates, though Pac-Man did use
Ice
skates in the level
Blade Mountain in
the Snow Mountain area. A difference with Pac-Man using In-Line skates is that Pac-Man can now butt-bounce, which he cannot do with the Ice Skates.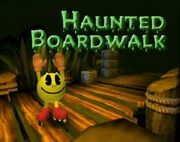 Description
Haunted Boardwalk is located in a particularly stormy region of Ghost Island, with lighting flashing repeatedly throughout the level. The boardwalk of the level itself is old and derelict, with individual pilings and whole sections of it giving way into the swamp below when stepped on. Ghosts and Bats can be found throughout.
Trivia
This level, along with Night Crawling and Ghost Bayou, uses spooky sounds such as owl hoots, cricket chirps, and wolf and coyote howls.