Evil Queen is a playable monster from Pac-Man Monsters.
Statistics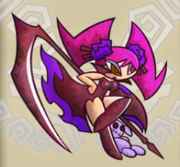 Max LV: 50
Attack: 428
HP: 171
Recovery: 64
Cost: 8
Type: Darkness
Species: Witches
Skill: Elemental Attack Dark (Dark damage to all enemies. Damage amount increases with level. Placement turn: 12.)
Leader Skill: Dark Power (Increase dark type monster's attack. Damage increases with level.)
Ad blocker interference detected!
Wikia is a free-to-use site that makes money from advertising. We have a modified experience for viewers using ad blockers

Wikia is not accessible if you've made further modifications. Remove the custom ad blocker rule(s) and the page will load as expected.