The Electric Eel of Pac-Land is an enemy that appears in Pac-Man World 2. In the Ocean it can be defeated by speeding at it (in scuba gear) while it is not giving off electricity.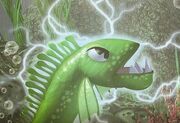 In Game Description
"The Eel is a predator that lurks in the dark caves of the corral reefs. Be careful, because the Eel gives of an electrical charge in a small radius around it."
Gallery
Ad blocker interference detected!
Wikia is a free-to-use site that makes money from advertising. We have a modified experience for viewers using ad blockers

Wikia is not accessible if you've made further modifications. Remove the custom ad blocker rule(s) and the page will load as expected.