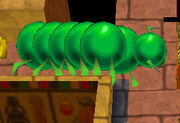 Centipedes are enemies from Ms. Pac-Man: Maze Madness. They are found in Cleopactra, Mummy Dearest and the Temple of Dots. They follow a specific pattern, even when Ms. Pac-Man gets in their way. Because of this, they are easy to avoid despite their speed. They are later replaced by Chinese Dragons in later levels.
Trivia
Centipedes do not appear in the Gameboy Advance version of Ms. Pac-Man: Maze Madness.
Ad blocker interference detected!
Wikia is a free-to-use site that makes money from advertising. We have a modified experience for viewers using ad blockers

Wikia is not accessible if you've made further modifications. Remove the custom ad blocker rule(s) and the page will load as expected.