Baby Pac-Man
, also known as
Pac-Baby
or
Baby Pac
, is the name given to two of the youngest members of the families of
Pac-Man
and
Ms. Pac-Man
and the main protagonist of the game
Baby Pac-Man
particularly. In later games, Baby Pac-Man appears as a girl. However, earlier games show Baby Pac-Man as a boy.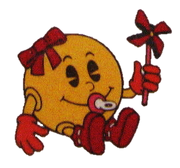 History
Ms. Pac-Man
The first appearance and origin of a Baby Pac-Man is in the third intermission of Ms. Pac-Man. Following the courtship in the second intermission, Pac-Man and Ms. Pac-Man greet the arrival of Baby Pac-Man, who is delivered by the stork. However, this Baby would later develop into Jr. Pac-Man as opposed to Baby, though some home ports feature a "Junior 2" intermission where the stork delivers a second child, presumably Baby.
Baby Pac-Man
While Junior went on to get his own game in Jr. Pac-Man, he previously had one as well, in the form of Baby Pac-Man. This would be the only appearance of the character as a baby in a video game. another Pac-Baby, a girl, would later appear in the Pac-Man World series.
Pac-Man World series

A Baby Pac-Man, this time shown to be a baby girl, is kidnapped along with Ms. Pac-Man, Jr. Pac, Chomp-Chomp, Professor Pac, and Pooka by Toc-Man. She is eventually rescued by Pac-Man.
Ms. Pac-Man: Maze Madness
Pac-Baby appears in Ms. Pac-Man: Maze Madness in multiplayer mode as a playable character. Once again, she is depicted as female.
Pac 'n Roll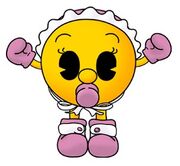 Baby Pac-Man appears in this game under the name Pac-Baby. Pac-Baby is
Ms. Pac-Man
's younger sister and the daughter of
Pac-Master
. She is saved by
Pac-Man
after he defeats
Golvis
for the first time.
In other media
Hanna-Barbera Cartoon
Pac-Baby appears in the Pac-Man animated series, voiced by Russi Taylor. He is depicted as male in the cartoon. He is likely to be the character later known as Pac-Man Junior.
The likely solution to the male/female discrepancies is that Pac-Baby is a common nickname for infants either in both Pac-Man's and Ms Pac-Man's families, or possibly in general Pac-People culture. The later games featuring Pac-Baby as a girl could take place after Pac-Man Junior's stint as Pac-Baby, and the nickname could have been handed down from one to the other.
Pac-Baby's design from the
1982 Pac-Man cartoon
was used in
Pac-Land (1984)
.