A Berry Scary Night is the 22nd episode of Pac-Man and the Ghostly Adventures. It aired on October 12, 2013.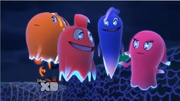 Plot
The two moons of Pac World turn blue every 100 Halloweens, so Betrayus summons the sinister Count Pacula to drain the last Yellow Orb in Pac World.
Characters
Previous Episode
Next Episode
Ad blocker interference detected!
Wikia is a free-to-use site that makes money from advertising. We have a modified experience for viewers using ad blockers

Wikia is not accessible if you've made further modifications. Remove the custom ad blocker rule(s) and the page will load as expected.